GTA 6: To Take Place In 1970 (*Rumour)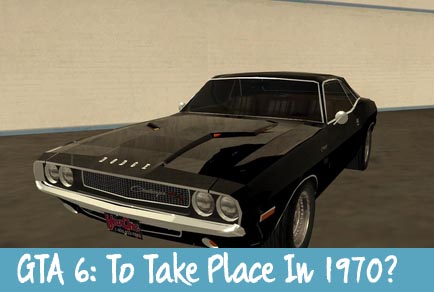 Grand Theft Auto VI is making a hot market among the fans due to its release in 2017 claiming by various sites though we didn't hear any official announcement. Again GTA 6 is making some news due to its change in location and arena.
GTA 6 to take place in 1970
After the grand success of GTA V on PS4 and Xbox, Rockstar is all set to focus on its next version which is in a dilemma about its arena that whether it will be in some new city or its will go back to its retro look of 70's.
Way back Rockstar North Studio President Leslie Benzies gave a little hint about "GTA 6" in October, he said in a press conference that they have many ideas which is to be implemented in GTA 6.
Rumors echoed by various sites as motoringcrunch says, various fans wants Grand Theft Auto VI to be back in 70's. While 70's culture might be felt in Vice city, but fans want that culture back in the new console. Though 70's arena was best suited for mafia's as it includes all the corrupt government and all business owned by mafia's.
Fans are also claiming GTA 6 to be back to Vice City, though its very hard to believe various other cities are also in consideration such as Las Vegas, Brazil & London. Those familiar with these cities might feel some excitement to see some new innovations.
A very appealing thought for the GTA 6 which is circulating like the fire among the fans is the change in the lead role. According to christianpost and latinopost GTA 6 will be coming with two new protagonists and A female lead character is also expected.
Rockstar's Dan Houser also quoted "In the future, could we do a game with a female lead character? Of course, we just haven't found the right game for it yet, but it's one of the things that we always think about."
So with all these we are very keen on knowing what GTA 6 is going to have? So friends stay connected for more updates and give your valuable suggestions in below comment box that whether you will like to see the 70's back or not?