GTA 6 between Vice City and Liberty City locations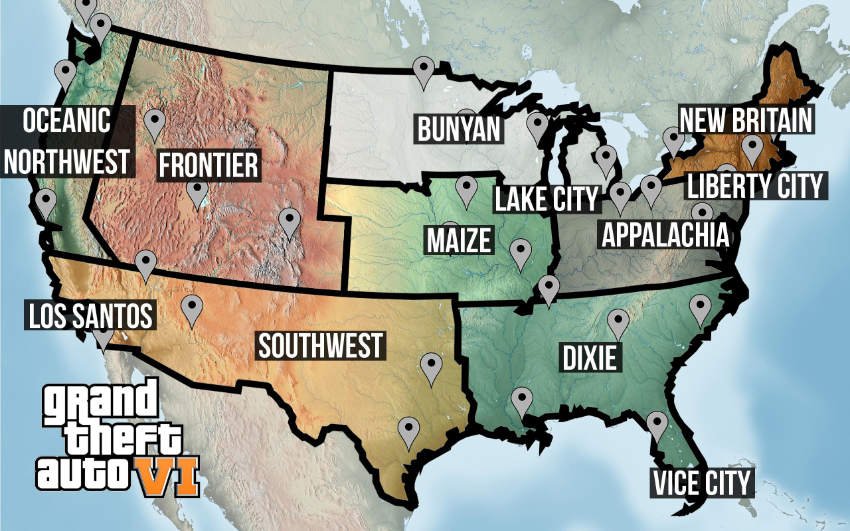 In a now-gone post on Pastebin, one user is said to have leaked a number of intriguing details regarding Grand Theft Auto VI. Before it was deleted, a Dexterto post copied the whole content. Rockstar has not made an official comment so far regarding plans for a new GTA game.
The recent Pastebin leak says that GTA VI will be compatible with next-gen consoles only, for example, with the "PS5" and "Xbox 2". It says that the game cannot be played on ps4 due to memory restrictions."
So we can assume that the unannounced game is huge since the action takes place mainly between Liberty City and Vice City, in addition, it also includes missions in parts of San Andreas, e.g., Blaine County. The leak claims new towns will be features as well as updates after the release.
The story, on the other hand, will likely include standard GTA VI adventures. According to leak, you will become a kind of a drug lord. You will become as a petty criminal in Liberty City doing random jobs and small-time thefts and finally make your way to Vice City, where you will become a member of a well-known gang. You will be in charge of looking after business in Liberty City until you are returned to Vice City and soon after that turn into a drug lord."
The leaker says that the dialogues will be similar to those that we've heard in Red Dead Redemption 2 with stranger NPCs.
Let's remember that Grand Theft Auto VI's existence has not yet been confirmed by the game's developer, however PlayStation LifeStyle informed readers earlier this month that there is a 3D artist who says he has worked on development of the game, according to the leaked CV. The part of the resume that includes GTA VI was removed once the rumor started circulating online.
Both leaks say the same things a December 2018 Pastebin post, in which a user indirectly suggested GTA VI would be released with the PlayStation 5 late in 2020. This source also said GTA VI would happen between Vice City and Liberty City. The same user before had correctly and very accurately predicted the PS5's specs, five months in advance of Mark Cerny's interview with Wired. This new GTA VI leak also supports the legitimacy of the previous PS5 leak, which said the console would have Horizon Zero Dawn Two in 2021 as well.
Authors:
GTA6 mods